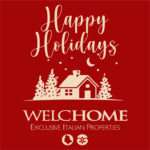 Happy Holidays from Umbria and look forward to seeing you around.
May this 2022 be the year in which all of your dreams including the one of an Umbrian Home 💚💚💚💚💚come true.
You have added Umbria to your wish list by now, haven't you? Well done!. Umbria is always a brilliant idea and the place where to be at this magic time of the year and always since Umbria is always magic. ✨✨✨✨✨
Warmest Wishes of Happy Homes.
Buona Feste dall'Umbria e mi auguro di incontrarvi presto qui.
Che in questo 2022 tutti i vostri desideri incluso quello di trovare una casa in Umbria 💚💚💚💚💚 possano realizzarsi!
Avete ormai inserito L'Umbria nella lista dei desideri e, come si dice, 'chi ben comincia e' a meta' dell'opera'! L'Umbria e' una scelta illuminata e il luogo dove stare in questo magico momento dell'anno come tutto l'anno, perche' l'Umbria e' magica sempre. ✨✨✨✨✨
Auguri e Case Belle e Felici
Be Umbrier and Happier