Happy and Peaceful Easter – Buona Pasqua di Pace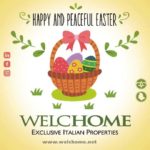 Easter Eggs from Umbria again! to remind you that Umbria, like chocolate, can only do you good 😎.
May your search for quality at all levels succeed in Umbria, where the concentration of art, good food and wine, traditions and quality real estate and locations is unbeatable.
Come and fall in love with Umbria and what it always generously offers. You will never regret it. The right time is now. Get on a plane, car … on a bike! use whatever means fo transport suits you to reach Umbria and become one of us.
My Welchome is here for you and we make things happen with you and for you easily, safely, happily at Easter and all year round.
Be Umbrier and Happier.
Buona Pasqua di Pace – Happy and Peaceful Easter
Linda Welchome