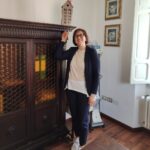 Gubbio Farmhouse! It has it all, few minutes from Gubbio historic beautiful center and facilities.
Gubbio is a mesmerizing Comune in Umbria and this inspiring Farmhouse is 10 minutes away from its centre. Private but not isolated, it is the perfect family home all year round with the ground floor hosting a B&B. Ideal as a holiday home too, thanks to its position and context and an excellent investment in Gubbio, famous for millenary traditions and its Medieval features.
The house is very much loved by its current owners who inherited it a few years ago form her grandmother and renewed it to make it their family home and thanks to its layout and generous size thought well of devoting the habitable downstairs to their B&B activity. So here renting potential is already developed on one floor of the main edifice. The exteriors look better than in photos, grey plaster is not so appealing at first sight but leaves room for personal touches in colour finishings.
It is an inspiring property ready from day one and at an extremely favourable price for a property this size and renovated close to one of the most beautiful villages in Umbria.
Gubbio Umbria and on a perfect opportunity to buy and start living at the property as a family as friends as entrepreneurs. Here's THE opportunity for the perfect family home in a relaxing context close to Gubbio historic centre and its facilities. Full of natural light it is ready for you, lovers of inspiring homes in locations that make it extremely easy to live the Italina life style too.
Location:
This farmhouse is an easy 10-minute drive from Gubbio which is the nearest historic town, with beautiful landmarks and world-famous traditions, the Race of the Ceri on May 15th attracts people from all over the world, the Endurance riding contests are a must for specialists and lovers of the genre.
Perugia's airport is 45 kms away, main towns such as Rome Florence, Ancona and Bolonia are all within two hours while there is an endless list of day trips you can make if you feel like exploring Assisi, Orvieto, Montone, Citta' di Castello, the lake area and many more also in nearby Tuscany and Marche.
Description:
This Inspiring Farmhouse in Umbria is on 2 main levels + basement encompassing the utility rooms. The two floors above ground have independent accesses and an external covered staircase leads to the part the owners reserved for themselves. The current arrangement enables the house to be used as 2 separate units and there are plenty of utility rooms that are currently just used for storage. The outbuilding and large yard/garden make it extremely versatile and totally safe and an extremely favourable investment at this price.
This welcoming farmhouse in Gubbio features 4 double bedrooms, one upstairs with balcony and the other one with a walk in wardrobe that is the size of the adjacent room, three bathrooms, a spacious living room and a large kitchen upstairs, and spacious kitchen diner downstairs, both with fireplaces. The basement includes 4 utility rooms which can be interconnected. The generous yard and beautiful terraced garden are the perfect completion to this inspiring property.
Gubbio Farmhouse is a great opportunity for an ideal family home in an ideal context is great for quality and price! The drive there is mainly on tarmac roads with a short stretch having remained a white track. The way up is indeed easy and you will enjoy driving around Gubbio, surrounded by the mesmerizing Umbrian landscapes and Pennines All utilities are recent, connected, perfectly working and regularly maintained.
Vani: 10 (cadastral rooms) Sup. Catastale: 251 sqm Bagni: 3 (bathrooms) Camere: 4 (master/double bedroom) Annex: 32 sqm Utility rooms:  28 sqm Garden 3,000 sqm Energy class: F 419.72
Conditions:
Perfect and ready from day one. Here you have an inspiring, independent spacious 4-bedroom beautiful Farmhouse, renovated and perfectly kept. Quality inside and outside to which you can add your own touches with little effort. The garden is easy to keep. The location is ideal to enjoy the best of the countryside while remaining 10 minutes away from a lively little town and its cafes', restaurants, sights and centuries 'old traditions. Come and be inspiring and welcomed by this great opportunity. The perfect time is now..
Utilities and main Cadastral Facts
All systems recent and connected. Central heating via LPG and water from private wells. Cadastral details: The property is registered with the Cadastral Register of Buildings (CatastoFabbricati) and Land (Catasto Terreni) of the Commune of Gubbio (PG) Italy.
This is indeed your perfect home in Umbria! Come and fall in love with this unique opportunity and feel free to ask anything specifically relevant to you.
Help me help you. I am totally into what I do and my WelcHome is here for you.
Easily, Safely Happily with my Welchome.