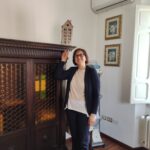 Inspiring casale is a mesmerizing property in amazing Pennabilli, a lively Comune in Emilia Romagna, in Rimini's province.
This inspiring Casale includes two perfectly revamped homes and sits at 5 minutes by car from Pennabilli. This perfect, beautiful casale is full of light and surrounded by the spacious garden and fenced park which is ideal also for sunbathing in total relaxation and privacy. The vigorous trees and generous vegetation are good for shade and privacy. A swimming pool can easily be added through a simplified from of authorization.
Both homes are ready from day one and grant renting potential too, at having been organized to enable owners to live on one home while renting the other and there are multiple arrangements for the 22 rooms and these smashing casale and its two units.
The stonework as well as the wooden beams and doors and indeed ancient fireplace and cotto floors have been preserved. The amiable feeling of a comfortable spacious home and surroundings is all around. It is homes and a property that have preserved their history while becoming more comfortable spaces where to live and enjoy the countryside, while remaining steps away from facilities, 5 minutes by car from Pennabilli center and about 40 minutes from Rimini and the seaside.
This spacious beautiful home integrates perfectly well with its surroundings while enjoying all the commodities of modern life. This inspiring home is inundated by natural light all day and silence.
Location: Pennabilli is just few hundred meters up and it is the nearest historic small town 5' away, with beautiful landmarks and its quite unique for the area connection to Tibet. Rimini and the Riviera are a short drive. Bolonia's international airport is less than two hours, Forli' about one. Moreover there is an endless list of day trips you can make if you feel like exploring San Marino and the Natural Park of Simone and Simoncello, Villa Verucchio, and many more also in nearby Tuscany and Umbria.
Description: Inspiring casale is on 3 (split) floors which are connected by internal staircase while also having independent accesses at the front and back. Each unit is currently used independently from the other but, at unlocking doors, the ground floors and first ones are reconnected.
The plans show the current layout of unit A and B which encompass 2 en suite master bedrooms, 3 double bedrooms and one study/single bedroom, a loft bedroom, 7 bathrooms, 2 spacious living rooms and 2 lounges. Direct accesses to the garden at the fronts and backs as well as utility rooms and laundry. The kitchens are all fully equipped and new, the 2 fireplaces, one is free standing and pretty unique are perfect completions of a perfectly working central heating systems with new furnace. Unit A is already in Class A1, the best for energy efficiency.
This unique opportunity, unique for quality and indeed price, is ready for you to move in from day one and start your new life while also making good use of the property renting potential! the property is entirely fenced, with private access through a large gate and includes a perfectly kept garden as well as extra land which is perfect for a swimming pool too. The little annex you see in the map is the perfect area for chatting the day away while eating al fresco and drinking good wine. Road access is on tarmac roads. The drive thre is indeed magic if you love driving around surrounded by the gentle hilly- landscape. All utilities are connected and perfectly working (they are new as the rest).
Vani: 12,5 (cadastral rooms) Bagni: 7 (bathrooms) Camere: 6  (4 master/double bedrooms 1 single bedroom, 1 loft) Large Terrace: 30 sqm, Garden/Land: 4,500 sqm  Energy class: A1 56,48 – E 136,35
Conditions: Perfect, in Pennabilli, Rimini area – Emilia Romagna .
Perfect and ready from day one also for the renting activity. Here you have a beautiful, independent spacious Casale already organized as 2 units with no need for works since it is already restored with high standards and quality materials. The garden is spacious and on flat land so easy to keep.
The surrounding land grants privacy and open views. This perfect Home is perfectly charming inside and outside and the location is soothing and relaxing. Inspiring and welcoming.
Utilities and main Cadastral Facts: All systems new, installed and connected. Central heating via LPG and water from a private well adn mains. Cadastral details: The property is registered with the Cadastral Register of Buildings (Catasto Fabbricati) and Land (Catasto Terreni) of the Commune of Pennabilli (RN) Italy.
You will fall in love with this property and its owners and at this price there are no equals! Come and be inspired by this happy and perfect home.
Easily, Safely, Happily with my WelcHome.