Features
450 m2
15 Rooms
5 Bedrooms
3 Bathrooms
EPC class: G - 418
Palazzo Marchese is a unique opportunity in an Italian mesmerizing 18th century Palazzo, standing right at the heart of Città di Castello, next to San Francesco's Church (for which the "Marriage of the Virgin" was painted by Raffaello http://pinacotecabrera.org/en/collezione-online/opere/the-marriage-of-the-virgin/) and a landmark in town. The whole of the first floor of this unique Palazzo is up for sale, with its 15 rooms, all interconnected. Unique in town and very rare elsewhere, it is a piece of Italian history with frescoes!
Location:
Palazzo Marchese is at the heart of Citta' di Castello, a beautiful and relaxing small town, enclosed by long stretches of walls built in the 1500s perfectly preserved. The enchanting atmosphere of the historic center, in its elegant Renaissance features and pretty unique Medieval ones (its round tower bell for example), is enriched with lively cafes, nice shops, a good selection of restaurants and wineries as well as Burri's museums to name but few. You cannot miss on Citta' di Castello when in Umbria.
Central Rome, with the two airports (Ciampino and Fiumicino), is within 2 hours as are Bolonia, Florence, and Ancona. Perugia's is the closest airport, at 45 minutes from Palazzo Marchese.. Beautiful towns such as Orvieto, Perugia, Assisi, Spoleto, Montefalco, in Umbria, Anghiari, Monterchi, Sansepolcro, Cortona, Arezzo in Tuscany and many others are from 10' to 45' from this unique Palazzo.
Description: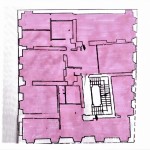 The whole of the first floor of this unique Palazzo is up for sale, with its 15 rooms, all interconnected (partitions are easy to remove), access is through a spectacular entrance and an intact marble staircase. The whole Palazzo is on 2 floors and the second one belongs to 2 other members of the same family.
The ground floor allocates the utility rooms, the marble staircase with easy-to-climb, low and wide steps. A welcoming café to the right of the main entrance serves amazing Italian coffees and cappuccinos and is open from Mon. to Sat. at daytime.
The current layout includes 3 bathrooms and 12 rooms which can be refurbished in line with your needs and preferences. Frescoes are of the period. You will find all the professional help and advise you need with and through my WelcHome. 20 years' experience in project management at your service so no worries. The price is for the property as is and includes a storeroom in the basement and around 450 sqm on the perimeter with 4-meter-high rooms (the size of a large casale when you think of it), all on 1 floor. It is unique for price, features, and potential!
Vani: 14,5 (cadastral rooms) – Bagni: 3 (bathrooms) – Camere: 5 (master bedrooms)
Energy class: G – 418.0
Conditions, Prerogatives and Main Cadastral Facts:
Structurally perfect. Systems installed in all the rooms (utilities can be reconnected in no time.). The piping needs upgrading to the extent that you may wish a different layout, additional bathrooms, and kitchen in different areas.
The Palazzo can be re-organized in 2 perfect apartments (or even 3) and we can discuss solutions and costs in detail. Let's make good use of my 20-year-experience in project management and no worries.
The property is on record with the Cadastral register of Buildings (Catasto Fabbricati) of Citta' di Castello and privately owned.
More on Umbria at https://www.umbriatourism.it/en
WelcHome is here for you and makes it happen, for you and with you, safely, easily and happily.
Floor Plan
main floor palazzo marchese
Location
P. Sanzio 2, 06012 Città di Castello
Location
P. Sanzio 2, 06012 Città di Castello
Contact: Dott. Linda Cesari
Agency Address: Via Gramsci n. 8,
Città di Castello 06012 (PG) Umbria, Italia
Telephone: +39 075 855 64 17
Fax: +39 075 855 64 17
Mobile: +39 339 23 65 848
E-mail: info@welchome.net
skype contact: linda.cesari1