Features
150 m2
2 Bedrooms
2 Bathrooms
EPC class: G index na
Garden/Land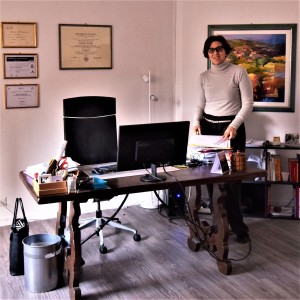 This evocative, beautiful house in stone used to be Muccignano's school and is on 2 floors. It has direct accesses to the outside from all the rooms downstairs, nice patios upstairs and open views. It is the perfect Romantic retreat. The road you see in photos is NOT a road, it gives access, traffic is non existent here!.

It is full of character and light and it is eligible for tax reductions on restorations that have been extended to works accomplished this year. SO be inspired and come over you will not regret it.

Back in the XIXth century it hosted Muccignano school in what is now the spacious living room upstairs. The current layout includes two double bedrooms and two bathrooms in the basement, kitchen, study with fireplace and large living room upstairs. An internal staircase will connect the two floors, while two external staircases and patio, with mesmerizing views on the valley, grant independent accesses to the upper floor.
Structural works are complete, finishing works have already been accurately estimated come and enjoy the visit. There are conspicuous refunds in taxes for this type of homes this year so it is a greater opportunity knocking on your door!

Here's a great opportunity, an inspiring home (of around150 sqm) at the cost of a flat. The house has its private parking area too and the small terraced garden at the back waits to be planted. The opportunity to have your OWN home in an enchanted corner of Italy with the positive addition of taxes relieves must be the bonus you were waiting for! You can re-coop up to 100k in works over time!!! HENCE well in excess of what you need here for the envisaged finishings. Get in touch, be inspired and ask for more. The right time is now!
Muccignano as character and appeal and you will get all the help and suggestions you need as well as the technical support the project requires at all levels through Welchome. Make good use of my 20 years' experience in restorations and you can inhabit your home in a couple of months from when works begin. The necessary works include finalizing the systems, adding the woodwork, and tiling. It is a great property to have and it can be rented out when not in use. The location is enchanting and very much intact as is this evocative house, the prefect retreat.

The context is that of a home in a typical Umbrian village, ideal for those that privilege traditional features in buildings and locations that are private and relaxing yet not too far from services, shops and towns. Access is on tarmac roads. Morra, the nearest village with shops is 12 kms away, Trestina is a lager village, 15 kms away with a wider choice of shops and services.
Monte S.ta Maria Tiberina remains at about 18 kms on the opposite side from Morra, while Citta' di Castello is the nearest fair sized town, 25 kms from the house. Cortona is only at 35 kms. The nearest airport is Perugia's "Saint Frances". Rome is just 2 hours away. Bolonia, Ancona, Pisa are all within 2 hours from here.

More on Umbria at https://www.umbriatourism.it/en
Completing the few works this evocative retreat requires is a straightforward process, limited in time and costs and with tax easements too!.
WelcHome is here for you and makes it happen, for you and with you safely, easily and happily.
Floor Plan
Location
Muccignano (PG)
Contact: Dott. Linda Cesari
Agency Address: Via Gramsci n. 8,
Città di Castello 06012 (PG) Umbria, Italia
Telephone: +39 075 855 64 17
Fax: +39 075 855 64 17
Mobile: +39 339 23 65 848
E-mail: info@welchome.net
skype contact: linda.cesari1