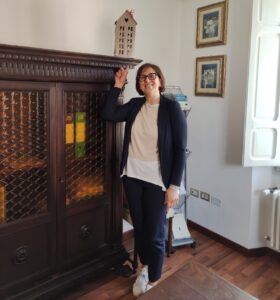 I specialize in advising and assisting international clients at all levels. I grant 25 years' experience in Real Estate transactions and renovations I focus on quality, in homes and locations at keeping high professional standards. With my Welchome I focus on you, your preferences your short or long term plans in real estate, at also making sure you understand processes at legal, technical and financial level.
Here I am for you with my WelcHome as your technical key that opens any door in real estate. My Welchome privileges quality and my selection of properties shows this at least this is what moves me when seeing evaluating and offering solutions that preserve their value over time.
I am here for you to help you sell, buy and/or renovate your inspiring Italian home as your technical key! 
I qualified as real estate consultant (agente di affari in mediazione) under Italian Law as early as 2004 to enrol with the Chamber of Commerce of Perugia, with license number PG 242152-2005, in 2005 so as to set WelcHome up and here I am to help and advise you at all levels. I am also a member of FIMAA (one of the three largest realtors associations in Italy) since 2005.
My passion for inspiring homes and locations was what made me opt for this profession after graduating in Trieste as interpreter/translator for English and Spanish hence managing international contracts for a large international company from 2000 until March 2005. In al this I kept devoting my spare time to real estate renovations which I had been doing since 1997, while still at university. Passion is still here, 25 years since I translated my first contract on building works.
This passion is matched by a solid experience in international transactions, negotiating skills and the determination to help my clients make good investments in quality homes, from Umbria, in Umbria and Central Italy. Keeping myself updated in laws, regulations and taxation in real estate is also part of the recipe to grant high professional standards.
Attention to details while remaining focused on you and your needs and preferences are my guiding lights. My professional record is test-proof and I deliver because this is my approach to work.
Based in Umbria, through my WelcHome, I grant qualified professional advice and service with a friendly approach, Umbria is welcoming and so are the lucky ones that are born here. Welchome is here for you and I understand that it takes time, attention and reliable advice, if you praise quality, you are in the right place
I provide through My Welchome, the legal framework and professional advice and support you need to relax while things happen. Mutual trust is also essential as is cooperating for our common objective. 'We are in this together' is something you hear me say often, along with 'no worries' . Easily, safely happily with my Welchome.
A selected network of qualified and experienced professionals helps me meet all your needs in total relaxation for you, whenever this is required, advisable, necessary.
Me and my WelcHome are here for you and we make things happen, for you and with you, easily, safely and happily. Opt for an expert by your side, it makes all the difference, all the time.
Dott. Linda Cesari
WelcHome
Quality Homes in Italy
Via Gramsci, 8
06012 Citta' di Castello (PG)
Umbria Italy
Tel. +39 075 855.64.17
Mob. +39 339.23.65.848
e.mail: info@welchome.net
website: https://www.welchome.net
Contacts: Dott. Linda Cesari
Agency Address: Via Gramsci n. 8,
Città di Castello 06012 (PG) Umbria, Italy
Telephone: +39 075 855 64 17
Mobile: +39 339 23 65 848
E-mail: info@welchome.net