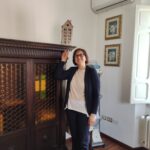 Perfect Casale is in Alta Umbria (Northern Umbria) and ready for you to start enjoying your new life in an enchanting context of Umbrian Pennines.
Close to Pietralunga and Citta' di Castello, this is THE perfect casale and it preserves its features and flavour, with a real feel of traditional country homes, in a relaxing context of hills and fields. The Casale is close to facilities and shops, it has great renting potential too and it is ready for its new owners.
Location: Caibaldi is the name of the location, 5 kms to Pietralunga. Pietralunga is one of the many welcoming hamlets of Umbria and still really authentic so worth your time if you wish to get the feel of the real Umbria.` More on Pietralunga at https://www.umbriatourism.it/pietralunga
Many small towns and villages are only minutes away by car from this smashing casale for sale. Citta' di Castello is the closest small town (at 15 kms) offering many cultural activities and major shopping facilities. Central Rome, with the two airports (Ciampino and Fiumicino) and fast trains too, is within 2 hours as are Bolonia, Florence, and Ancona.  Perugia's is the closest airport, 45 minutes from the house. Beautiful towns and villages such as Orvieto, Perugia, Assisi, Spoleto, Montefalco, Collazzone, Montone, Citerna, in Umbria, Anghiari, Monterchi, Sansepolcro, Cortona, Castiglion Fiorentino, Arezzo In Tuscany and many others are all within easy reach and practically all within 90′.
Description:
 This property includes the main casale (363 sqm ca) on 3 floors, annex (to be rebuilt), patio, well kept, terraced, garden, farmland and olive groves on around 2 hectares of land.  The basement includes a large study as well as an independent apartment with direct access to the outside, as well as utility rooms.
Upstairs, the main floor includes a fully equipped kitchen, main living room with traditional fireplace, main bathroom with bath. Kitchen and study are connected through an internal staircase. The large patio with grapes that you can pick yourselves and enjoy is at the side entrance as is the traditional oven that, like the main fireplace on floor one, belongs to here since it was built. We are talking centuries.
Upstairs another independent apartment and 3 of the 5 double bedrooms and 2 bathrooms all with windows. The living/diner also features a large traditional fireplace opposite the kitchen.
The kitchens and fixtures are included in the price and the rest, if of interest, can be discussed and become part of the deal. Local help is available for the property upkeep.
Vani: 12,5 (cadastral rooms) – Bagni: 4 (bathrooms) – Camere: 5 (master bedrooms) – Patio: 25 sqm – Land: farmland, olive grove, wood – Annex –  Energy Class: G index to be confirmed.
Conditions: Perfect Casale in Umbria and ready from day one.  Here you have a beautiful, independent spacious casale with perfect terraced garden, high restoration standards and materials, land around for privacy yet not isolated. This Casale is unique and these photos give you a pretty good feel of the house character and strength. It is the real Umbrian casale, in natural stone, hand made cotto tiles, chestnut beams, and shutters, in a beautiful middle hill position. Happy, inspiring and welcoming.
Utilities and main Cadastral Facts: All systems new, installed and connected. Central heating via LPG and water from private wells. Cadastral details: The property is registered with the Relevant Cadastral Register of Buildings (Catasto Fabbricati) and Land (Catasto Terreni) of the Commune of Pietralunga (PG) Italy.
This smashing property for sale belongs to the small group of traditional casali that have not lost their character hence their value. Besides, quality does not devalue over the medium to long term ie it is an investment that will remain good, solid, safe also in the future. Discovering this generous part of Italy is fun and an experience you will never regret. Evaluating opportunities via a focussed literate consultant that is here and remains here for you is the guarantee you need. Me and My Welchome are here for you.
Seize this opportunity for this Perfect Casale in Umbria. The right time is now !
Easily, Safely, Happily with my WelcHome.